By: Aidan Moir, University of Toronto
New Democratic Party leader Jagmeet Singh, the most prolific Canadian politician on TikTok with almost 900,000 followers, has deactivated his profile in a move that will undermine his party's attempts to engage with young voters through social media.
On Feb. 27, Prime Minister Justin Trudeau announced TikTok would be banned on all federal-issued government devices due to security concerns over the Chinese-owned platform.
Trudeau's decision follows similar bans in the United States by governments at the federal and state level, and numerous universities last December.
Singh has characterized his deactivation as "taking a pause" from the app, leaving open the possibility of reactivating his TikTok account in the future once the security concerns are addressed.
But in the meantime, a government ban on TikTok poses significant challenges for politicians and political parties, like Singh and the NDP, that use the platform for digital strategy within a permanent campaign model.
TikTok and the permanent campaign
The permanent campaign is an election campaign approach where politicians and their staff apply election tactics to everyday governance to continuously appeal to the public for support.
As part of their shift towards permanent campaigning, the NDP began hiring digital consultants, market researchers and public relations experts in 2000 to professionalize the party.
TikTok was an important element of the NDP's permanent campaign strategy since the content was designed for Singh to stay visible on the platform in preparation for a snap election.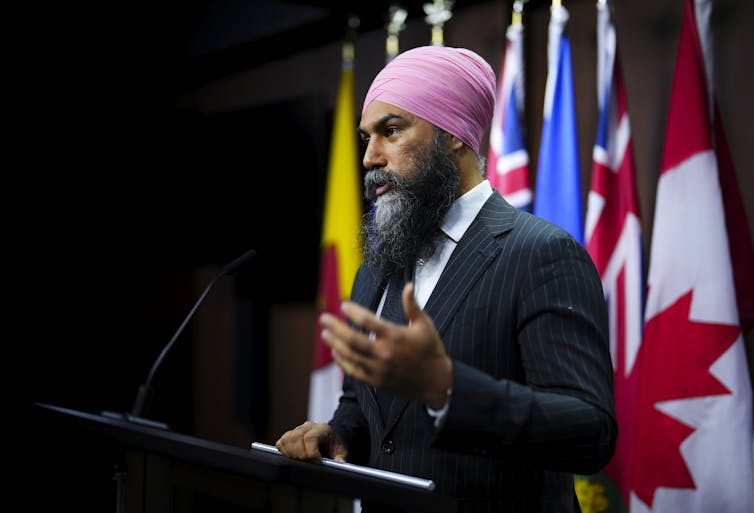 When the 2021 federal election was announced, there were only 11 candidates who had TikTok profiles, eight of whom were NDP candidates.
The NDP invested significant resources in building Singh's TikTok presence, hoping platform virality would translate into future votes.
Singh's TikTok celebrity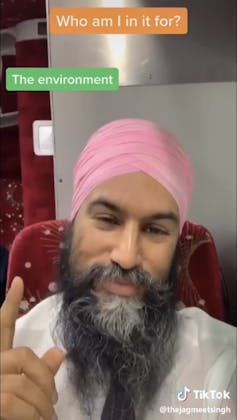 Singh launched his TikTok in August 2019 before the platform exploded in popularity in North America during the early months of the COVID-19 pandemic.
His second video, posted days before the October 2019 federal election, featured Singh promoting the NDP's platform using the viral Nope Yup trend. Lip-syncing to the audio, a snippet of the song Choices by E-40, Singh's TikTok went viral and accumulated almost 175,000 views within 72 hours.
Singh continued using TikTok as a vital component of the NDP's digital strategy to reach young voters by highlighting the party's social democratic platform. He posted content on issues ranging from Islamophobia in Canada to instructions on how to pronounce his first name.
His videos frequently used TikTok's unique features such as audio, trends and challenges.
Singh's most popular video had over eight million views. The video consisted of Singh using TikTok's greenscreen function to participate in the Alors on Danse trend. Swaying in front of a group of young adults, text edited onto the video proclaimed: "When they say young people don't vote but you know they're going to make history in the next election."
Singh's TikTok again went viral, drawing press attention from The Globe and Mail. The Toronto Star proclaimed him a "TikTok Superstar." The popularity of Singh's TikTok showcased the playful persona that contributed to him being cited as the most liked federal party leader in Canada.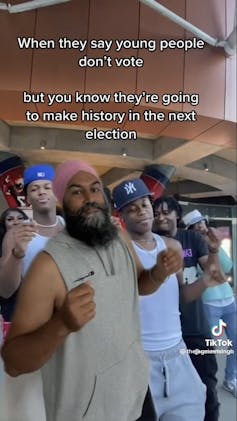 The memetic composition of his videos takes advantage of TikTok's mysterious algorithm, which led to concerns about a lack of substance. Some videos have a gimmicky feel to them, which may be why the NDP's 2021 election campaign debrief noted that Singh appeared to be less serious than other federal candidates.
Singh's TikTok reflected the blurring boundaries between politicians and political influencers. A political influencer is an individual who becomes famous on the internet for posting politically oriented content on social media platforms.
Singh used TikTok to comment on events such as the January 2021 Capitol riots in a direct manner like other political influencers on the platform — an approach not typically suited to his official role as party leader.
Government TikTok ban
The government ban of TikTok on federal devices poses challenges for Singh's digital outreach within the permanent campaign model. While Singh is active on platforms like Twitch and Instagram, the lively memetic style of his TikTok is difficult to replicate.
Young adults are increasingly receiving their news on TikTok rather than legacy media outlets. The app is a space where youth are active and Singh's TikTok content was strategically designed to go viral and reach young users, who are vocal about many of the issues Singh supports.
Singh was one of the few politicians trying to reach these potential voters in a language and style they recognize. Singh's use of TikTok to appeal to a youthful electorate was seen as a long-term investment in future votes. But now the potential impact of TikTok on the NDP's election campaign strategy is under threat.
Aidan Moir, Visiting Assistant Professor, Teaching Stream, University of Toronto
This article is republished from The Conversation under a Creative Commons license. Read the original article.